Top 5 Educational Trends That Actually Work!
There are always copious amounts of trends in the education field. All you have to type "education" into your Pinterest search box to find out just how many "new" developments there are on the topic of teaching. While I feel like most things are so much new as they are repackaged, there are some educational trends that are worth giving a chance. Here are my top five educational trends. I have personally tried each of these in my classroom and found that they enriched my students' learning experience.
5. MobyMax.com
I started using Moby Max in the 2015-16 school year. Moby Max is a website that geared towards closing educational gaps for students. It has components for Reading, Writing, Math, Science, Social Studies, and Phonemic Awareness. Students take a placement test for each content strand and begin exercise to move them forward in their specific areas of improvement. I originally started using it for remediation. Once, I saw the value in the program I began to use it for my entire class. I started just using the Math and Reading components as a differentiated center during small group rotation. My students love it! It's very kid friendly. I started using it with my first-grade classes and plan to continue it with my fourth graders. The best thing about Moby Max is that it's free. You can upgrade from the free subscription to the fancy one that generates graphs and other cool stuff. However, I use the free version. It gives me exactly what I need in the way documentation and student growth.
4. Accountable Talk
If you have not heard about accountable talk, please take my advice it is amazing! I learned about Accountable Talk during a professional development. Accountable Talk is essentially conversation starters that guide students into having academic conversations. It's meaningful talk about your content between students. I introduce it in whole group time. I give the students a sentence starter to engage them in the whole group discussion. The starters ques the students to agree, disagree, restate what was heard, build on peer input, and explain their thinking just to name a few. After the students learn the scripts, I have them use them in pair-share time. I work the students up to holding their own discussion in a small group of 4 or 5 without me to guide the conversation. I use accountable talk in all subjects! I love it because it meets speaking and listening standards and administrators are always impressed when they hear students actually talking about the lesson. I use posters from a Teacher's Pay Teachers seller in my classroom. The posters are a visual aid for the students when they are trying to keep their conversation going. I cannot post actually link to the posters for copyright reasons. However, I did include a link to her blog so you can purchase from her store.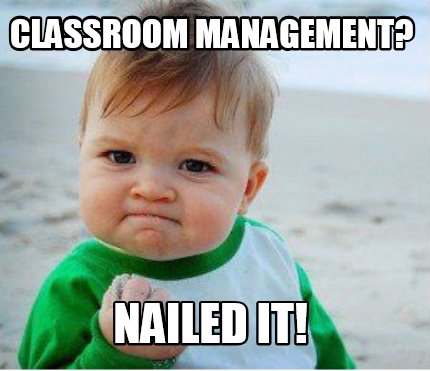 3.CHAMPS
CHAMPS is classroom management tool I learned about in a professional development my second year of teaching. CHAMPS is an acronym for Conversation, Help, Activity, Movement, Participation, and Success. In this method of management, you teach student appropriate ways to hold a conversation, move, get help, and participate in during each activity in your classroom. There are published books that you can read about this management style and professional developments that you can attend about it. The basics are that you must explicitly teach student appropriate voice levels for every activity, how to get help, how or if they can move, and what participation looks like. You should have this displayed in the room at all times so that students have a reference for accountability. Again, you find posters for CHAMPS on Teacher's Pay Teachers. You can also purchase the book on Amazon.com However, this year I am making my own posters. I will post pictures during my room reveal.
2. Whole Brain Teaching
I was very conflicted about making Whole Brain Teaching number one on this list. It was an extremely close second. If you haven't heard about WBT please go to YouTube and check out some videos! There are some amazing things going on WBT rooms. WBT combines simple classroom with engaging call and responses to keep your class rolling full steam ahead all day. In complete honesty, I found WBT to be very overwhelming the first year I tried it. I chose to only use certain parts of the whole system in my classroom. I'm going to review only the parts that I use. I do encourage you to go to the WBT website and watch a few of their videos.
My favorite parts of WBT is the rules, scoreboard, and attention getters. Many people use the "Class-Yes" attention getter. I use it as well. It is practically the first thing that I teach on day one. It works all year long. The way you say "class" is the way they say "yes". In the first week it how I use the scoreboard. Every time the students respond "yes" when I say "class" the class gets a point. When that don't respond or don't respond quickly enough I get a point. We play each other daily for a free award like an extra minute of recess. As the students start to win, I change the way I say "Class" and introduce the other attention getters. I also make it more difficult for them to win. I teach to "mirror" me. This is when students do what I do and say what I say. I use this every time I introduce an important new topic. The last thing I teach them is "Teach-Okay." This when they take the content and teach it to another student. I use the scoreboard and attention getters all day in my classroom. The students stay engaged and I am less stressed. The rules I teach on day one and use for discipline. The are rules are: Follow Directions Quickly, Raise Your Hand for Permission to Speak, Raise Your Hand for Permission to Leave Your Seat, and Keep Your Dear Teacher Happy. My students do reflections when they misbehave. They choose which rule they need to work on and write how they would improve.
What I like most about WBT is that it works so cohesively with CHAMPS and Accountable Talk. This is my management trinity!
1. CLASS DOJO
I cringe as I write this because I turned my nose up at the website for so long. I wanted nothing to do with it. I felt it was overrated and not suitable for early primary. I used it last year during our school's push towards Positive Behavior Intervention Support (PBIS). I used it without push back. I decided to buy into it so that I would be able to sell it to parents as a useful tool. It turned out to be a very useful tool for several reasons. I literally used every part of Class Dojo last year. My students came in and marked themselves present on the SMARTboard. I posted the class newsletter, flyers, and permission slips on the class story. I posted videos of myself solving math problems and pictures of daily class events. The parents loved it! I loved it too! Midway through the year, I figured I could ditch my clip chart because I didn't need it. The students were able to keep track of their behavior by looking at the board.
Class Dojo seriously changed so much about my communication with parents and students. As much as I don't want to say it, I was wrong. My first graders responded well to Class Dojo. They understood how to use it and it didn't conflict with any of my other management tools. I'm very excited to use again this year because we should be able to post longer videos to the class story. I've also be getting updates from the site via e-mail. It sounds like there are more exciting updates to come!
So, there you have it! These five trends are definitely worth trying this year! If you give any these trends a try please comment your input!
THANKS FOR READING!!!